Kilimanjaro airport Arrival Advice

Kilimanjaro International Airport provides a convenient way for visitors to fly in and out of Tanzania for their climb and safari trips. The airport is located just 40 minutes from the gateway towns of Moshi and Arusha by vehicle, making it easy to begin your adventure soon after you arrive.

We describe the entry process to obtain a visa and clear immigration on our site here. Once you are through security, grab your checked baggage and head for the exit. You will be required to scan your baggage before leaving.

There is usually a crowd of drivers just outside the airport who are waiting to pick up their passengers. Ultimate Kilimanjaro provides pick up and drop off services to our clients. These must be pre-booked ahead of time. If you have transfers booked with us, look for the friendly driver wearing a blue Ultimate Kilimanjaro shirt and holding a sign with your name on it. He will help you carry your bags to the vehicle and then drive you to your hotel.

When you are departing Tanzania, it is recommended that you arrive at the airport two hours before your flight time. Note that you will not be able to get your boarding pass from the airline booth until it is within three hours of your departure. So do not come to the airport more than three hours beforehand or you will have to wait until the airline booth is open for your flight.

With your boarding pass and passport, you clear security and enter the common waiting area. There are six gates at Kilimanjaro airport. The seating at the gate faces outdoors through large windows so you can see your plane as it arrives.
JRO Airport Overview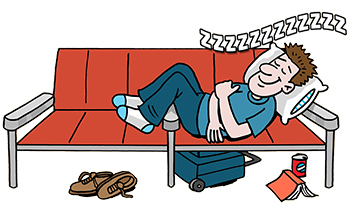 To help you plan your layover or overnight sleepover, here is a quick run-down about what to expect during your time at Kilimanjaro Airport.
What to Expect
The small terminal at Kilimanjaro Airport (code: JRO) has been recently renovated. Parts of the terminal are open to the outdoors, so expect mosquitoes. Shops and eateries are located both inside and outside the terminal. Some reviews suggest waiting till close to your boarding time to pass through security, as the boarding area is small. Luckily, WiFi is free. For added comfort while you wait, economy class passengers can pay to enter an airport lounge. See Airport Lounges in the guide below for location and access information.
Sleeping in Kilimanjaro Airport
We do not yet have any sleep-related airport reviews.  For uninterrupted sleep, nearby hotels offer shuttle service. See our Airport Hotels section below for more info or read some traveller airport reviews for more tips.
If you want to do some last minute shopping, you are in luck. Next to the common waiting area is a row of shops, including a:
a) Book shop
b) Garment Shop
c) Souvenir and Snack Shop
d) Gemstones & Jewelry Shop
e) Currency Exchange
f) Duty Free Shop
In summary, if you have time to kill before your departure, going to the airport a bit early (3 hours) is not a bad idea. There are places to shop, sit, eat and lounge so you can relax before your potentially long flight out.